RICHMOND, Va. (WSET) — A bill to designate a day in November to recognize and remember transgender people in Virginia has passed the House of Delegates.
Del. Danica Roem, a former journalist, made history in 2017 as the first openly transgender person elected and seated in a state legislature in the United States. She unseated Republican Del. Bob Marshall, one of the state's longest serving and most socially conservative lawmakers.
Roem was also the first transgender member of the House of Delegates and became the first out transgender person to win and serve in a state legislature.
She was reelected to the House in 2019.
Some of her platforms include eliminating the school meal debt, prohibiting schools from 'lunch shaming', ratifying the ERA, and transportation in her district.

Roem introduced HJ 85, which would designate November 20, 2020 and each succeeding year as Transgender Day of Remembrance in Virginia.
My resolution for Virginia to recognize November 20 each year as the Transgender Day of Remembrance just passed the House of Delegates 58-23.
The vote tally speaks for itself.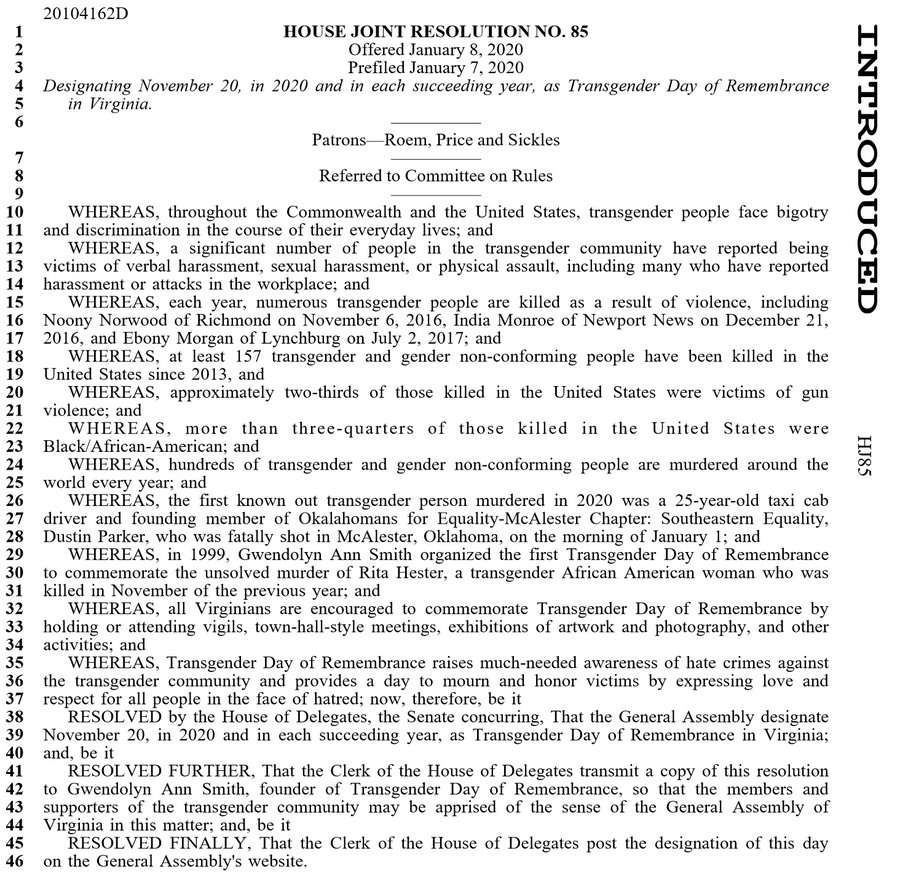 It passed the full House with a vote of 58-23.
"The vote tally speaks for itself," she wrote on Twitter.
In the bill, Roem writes that each year numerous transgender people are killed as a result of violence, including Ebony Morgan in Lynchburg in July 2017 and at least 157 transgender people and gender non-conforming people have been killed in the United States since 2013.
"All Virginians are encouraged to commemorate Transgender Day of Remembrance by holding or attending vigils, town-hall-style meetings, exhibitions of artwork and photography, and other activities," the bill reads.
The Virginia Senate has passed several pro-LGBTQ bills that will now head to the House of Delegates.